A high standard of quality for our products and sustainable cleanliness in the system under production conditions are among our guiding principles followed as early as the conception and design phases.
Practical experience has shown that systems without disrupting corners and edges and constructed using the right materials require only a small amount of maintenance and are able to be operated without disruptions. In addition special attention is paid to stability and quality when selecting the components. Installation of the moving components in such a way that they are protected provides further security. Active components in the system are easily accessible so that the ability to carry out maintenance or repairs rapidly is ensured.
All the operational sequences are subjected to quality assurance. The quality-assuring measures are checked at regular intervals by the TÜV (German technical monitoring association) and are certified in accordance with DIN EN ISO9001:2008.
Fundamentally our systems are designed and constructed in such a way that they can be used for many years without maintenance. Thus the added value of the systems lies also in the fact that maintenance costs are kept as low as possible.
The customer-oriented SOLUTIONS are conceived in such a way that through appropriate automation the system supports the necessary manufacturing sequences in every situation without action by maintenance personnel being required. We see ourselves as a supplier of systems that not only manufactures and sells products but also as one that provides SOLUTIONS  which are characterized by a holistic approach.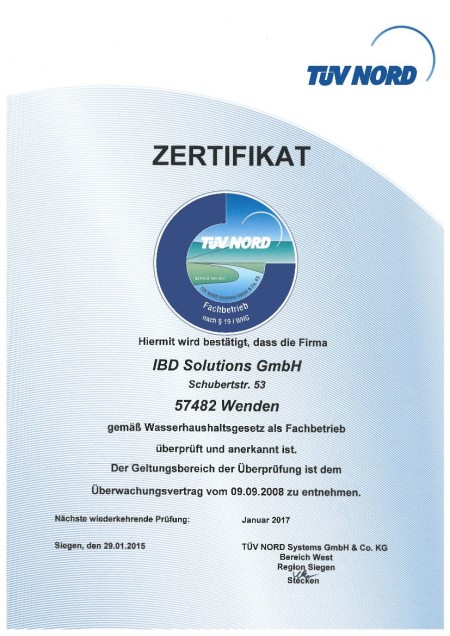 Thanks to the international installation of the systems, our customers are able to reach our service department 24 hours a day, 365 days a year. Flexible and motivated service technicians are able to be of assistance with solutions for problem within very short periods of time – if necessary on site. Modern technologies permit direct accessing of the systems, thus enabling faults to be eliminated rapidly.
Fundamentally we make use of systems which do not require filtration auxiliaries. In addition we attach especial importance to the energy efficiency of the electrical and water-hydraulic systems. Supplementing the relevant environmental protection reasons, the thinking here is that efficient systems help to reduce costs and go easy on plant components.